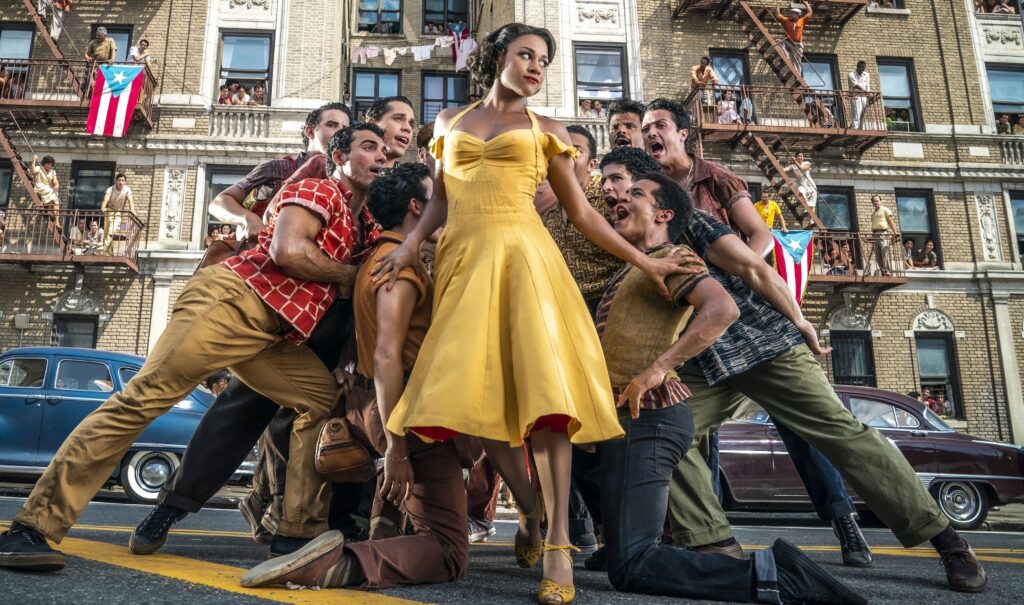 West Side Story

January 14, 15, 16, 2022
Friday at 7:00 p.m.
Saturday at 4:00 (with captions) & 7:00 p.m.
Sunday at 5:00 p.m.
 Steven Spielberg's West Side Story presents a new look at the classic musical that lives up to its beloved forebear — and in some respects might even surpass it.
"Spielberg's West Side Story is a charismatic showcase for everything he does best on the big screen, and a genuinely thoughtful update, making gentle and incisive rearrangements to justify its brassy sashay back into cinemas." – Critic review, The Atlantic
The acting, singing, and dancing are terrific, and Steven Spielberg's West Side Story updates the original without losing its heart." – Audience review
COVID SAFETY NOTICE
For everyone's safety, and in keeping with protocols at similar venues, we're requiring proof of vaccination before attending a movie at the Concrete Theatre.  As proof of vaccination, please show your vaccination card or a digital copy on your mobile device. This change only pertains to audiences in the Main Auditorium, not customers at Act One Ice Cream Parlor, where the length of your visit is much shorter.
Throughout the building, you're only required to wear a mask that covers your nose and mouth, as mandated by the state of Washington. The best way to get up-to-date information on our movies, events and ice cream parlor, is to sign up for our email updates.
For more information:
FAQs Concrete Theatre
The Covid-19 pandemic has made it challenging for movie studios to release new titles and has also impacted the availability of some of the films we're waiting to see. Please check back for any changes and updates.

Concrete Theatre
Movies
an Experience
Why Movies Matter
"There's nothing like going to a big dark theater with people you've never met before and having the experience wash over you. That's something we all truly believe in. I'm a firm believer that movie theaters need to be around forever."
– Steven Spielberg