Welcome to the Historic Concrete Theatre
October 2020
In keeping with the current "Safe Start" measures in Washington state, the Concrete Theatre is temporarily closed, with the exception of private rentals and some special events, all of which must follow strict COVID-19 precautionary measures.
We miss the old days, seeing all of you at movies and events, and look forward to the day we can get together once again. In the meantime, please stay healthy and stay in touch with us virtually: subscribe to our email updates!
We have lots of things planned for the future, including our new Act One Ice Cream Shoppe, a new entrance, more restrooms and an expanded lobby. These projects will be completed over the winter. Thanks for your continued support!
Saturday, November 14, 2020
7:00 – 9:00 p.m.
Free tickets. Donations appreciated.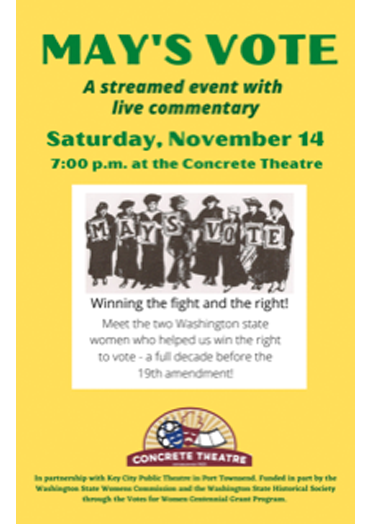 Saturday, November 14, 2020
7:00 – 9:00 p.m.
Tickets, $25