Welcome to the Concrete Theatre
& Act One Ice Cream Parlor
The historic Concrete Theatre was built in 1923 and is the oldest movie theatre in Skagit County. Since 2009, it's been owned by Valerie Stafford and Fred West and except for that long, unexpected intermission in 2020-2021, we've been showing movies and hosting events regularly since 2010.
Act One Ice Cream Parlor opened in June 2021, after we purchased the building next door to the Theatre and combined them to create an "event center," where you can meet and mingle with your friends and family while enjoying top-notch entertainment and some world-class treats! We feature premium ice cream from Wisconsin, fresh-baked waffle cones, sundaes, Italian sodas, milkshakes, and some incredible espresso beverages.
Act One Ice Cream Parlor is open Thursday through Sunday from Noon to 7:00 p.m. 

Stop by and try our new holiday flavors of super-rich ice cream: PUMPKIN PIE, PEPPERMINT STICK AND CINNAMON!
The Theatre and Ice Cream Parlor are located in Town Center, Concrete. Follow State Route 20 to our town, then drive just one block off the highway to explore our historic Town Center.
Welcome to Winter 2021

There are lots of great ways to celebrate the season here, by attending our movies, events and ice cream parties, or planning a special event of your own. Send a message if you'd like information on renting our Main Auditorium, Cinema Two, or any part of our venue.
We're also pleased to announce the return of our popular series, Movies That Make You Think. If you're interested in joining our club of deep thinkers (there's no extra fee!),  just get in touch.

Celebrate the season with us in Concrete!  Santa arrives on Saturday, December 4, followed by the community tree lighting. The event is outdoors, in Town Center and features music and free refreshments. Please join us starting at 5:30 p.m. There's also a "Find the Gnomes" challenge, and a decorating contest. Check out the details on Holiday Lane — all events and activities are sponsored by the Concrete Chamber of Commerce.

Our December movie schedule includes: The French Dispatch, Belfast and House of Gucci. Please see our EVENTS page for details.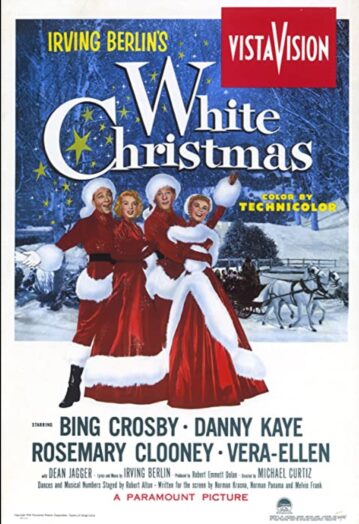 You're invited to a FREE movie on December 21 when a holiday classic comes to the big screen!
WHITE CHRISTMAS (1954)
Tuesday, December 21

Live music at 6:30 p.m.
Movie at 7:00 p.m.
Sponsored by Community Bible Church
Singers Bob Wallace (Bing Crosby) and Phil Davis (Danny Kaye) join sister act Betty (Rosemary Clooney) and Judy Haynes (Vera-Ellen) to perform a Christmas show in rural Vermont. There, they run into Gen. Waverly (Dean Jagger), the boys' commander in World War II, who, they learn, is having financial difficulties; his quaint country inn is failing. So what's the foursome to do but plan a yuletide miracle: a fun-filled musical extravaganza that's sure to put Waverly and his business in the black.
Please note: The Concrete Theatre and Act One Ice Cream Parlor will be closed for the holidays, from December 23, 2021 until January 6, 2022. We want to allow all our employees to enjoy this time with their families. Thank you for your understanding and support.
Merry Christmas and Happy Healthy New Year!
COVID SAFETY NOTICE
For everyone's safety, we're requiring proof of vaccination to attend a movie at the Concrete Theatre. Movie-goers will also need to wear a mask except when eating or drinking. As proof of vaccination, please show your vaccination card or a digital copy on your mobile device. This change only pertains to audiences in the Main Auditorium.   Please know we did not make this decision lightly. We took into account the community transmission of the Delta Variant, followed in the footsteps of other venues, and carefully considered feedback from our regular customers. We appreciate all of you who've reached out with your support and understanding. The best way to get up-to-date information on our movies, events and ice cream parlor, is to sign up for our email updates. Read more: FAQs Concrete Theatre