Welcome to Act One Ice Cream Parlor
We're open Wednesday through Sunday, from noon to 7:00 p.m., serving the most amazing ice cream from Wisconsin! We have 20 flavors that are constantly changing, so why not be adventurous and try something totally new. All our ice cream is rich and flavorful.
Act One also offers sundaes, milkshakes, floats and affogatos (an espresso sundae).
Our espresso bar serves Cafe Mam coffee from Oregon. Enjoy an Americano, latte with flavors and milk of your choice, mocha, breve and more.
We opened on June 24, 2021, so we are adding to our menu all the time, based on what we hear from our customers and fans. Send a message and let us know what you'd like to see.
We are the newest, independently owned ice cream parlor in the region, and the only one located inside a historic theatre. The ice cream parlor itself is historic, having been built in 1915. In those early years, it was the home of the well-known Monrad Grocery.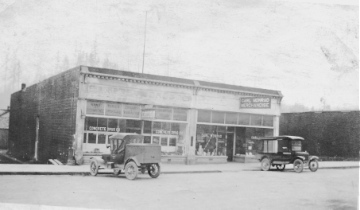 Honoring the past.

Believing in the future.